The coronavirus pandemic has completely rearranged our lives and left us with no option, but to evolve and adapt. Economies are struggling and governments are faced with a tough decision to reopen their economies. Although African infections and death trends are considerably low compared to other regions, we haven't been spared from this.
Most hit countries such as the UK and USA have turned to technology to try and effectively carry out contact tracing, using contact tracing applications. According to an Oxford University model released this April, digital contact tracing can effectively reduce the number of coronavirus infections, helping countries come out of lockdowns and mitigate risks of severe economic disasters.
Tech startups and developers have built various contact tracing applications which tackle this issue. Global Tech giants Google and Apple have teamed up to build a joint contact tracing technology for governments and the general public to use.
Även om utvecklingen av kontaktspårningsapplikationer är ett avgörande steg är det också viktigt att ta en paus och ha lite kul. Det är där en casino med bonus utan omsättningskrav som gratissnurr eller cashback kommer in, vilket ger spelarna chansen att njuta av sina favorit casinospel.
It is however interesting to note that these solutions are only designed to work best in certain countries. Most developing countries would currently not be able to adopt such technology to carry out effective contact tracing.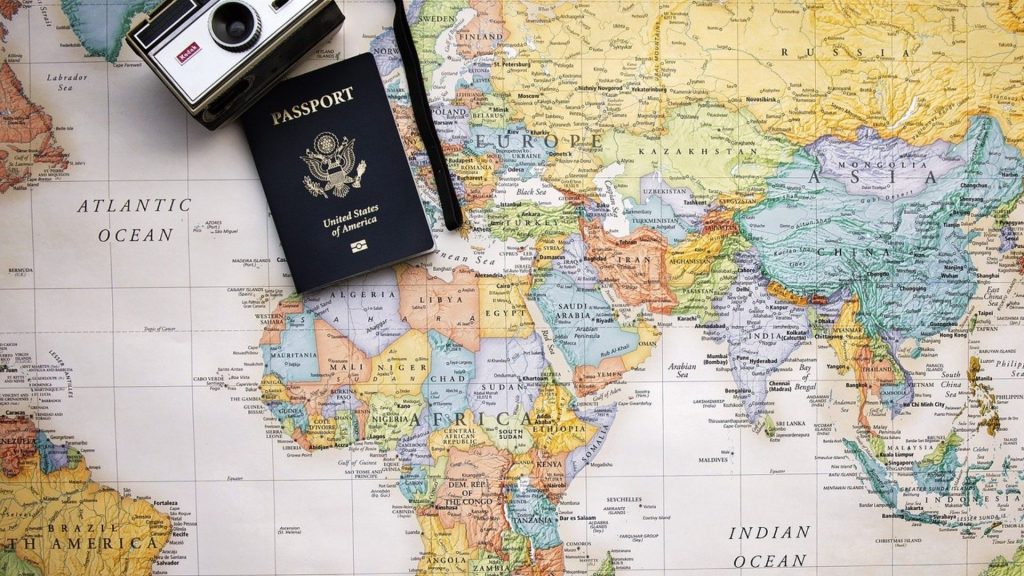 Here are some of the limitations that come with such approaches:
1 – Access to digital devices- mostly smartphones
According to the Oxford research, at least 60% of the population would have to adopt the app for it to be effective. Although there has been impressive mobile penetration rates on the African continent, it's yet to be determined what proportion of these mobile devices are smartphones that are capable of running these apps. Some research indicates that worldwide, sub-Saharan Africa has the lowest rate of smartphone ownership of any geographic region.
To make matters worse, apparently not every smartphone can run the Google and Apple API based contact tracing app. According to a recent article published by FastCompany, only smartphones released at least in the last 5 years are proving to be compatible and this is a problem. This leaves out a very big proportion of the population, rendering the effort fruitless.
2- Internet access
Another challenge is the issue of internet access to be able to download the app and run it on the phone continuously. Fact is, in Africa, internet access currently remains a privilege only enjoyed by a smaller bracket of the entire population.
South Africa has managed to solve this by partnering with mobile telecommunication companies to zero rate the government covid alert app. This is a good move as people can now access the app even without mobile data. It's definitely a step in the right direction.
3 – Privacy concerns
Citizens have increasingly been shunning anything which involves them having to hand in their personal information. There are concerns over who has access to the data and how they will use it. The issue of state surveillance and human rights abuse has been a call for concern.
We have a growing number of African regimes who usually find themselves (more often than not) on the wrong side of the privacy-and-citizenry-protection line. This can be a serious issue and it's quite worrying. Personally, I always shrug (and rightly so) when prompted to use systems which can track me, especially if it involves governments or any public departments. I would need an extra layer of information on the privacy policy and design of the app before I can download it into my phone.
4- It places a huge responsibility on the end user/citizen
The whole idea is hinged on a volunteer who has to be responsible enough to download the app, always turn the Bluetooth on (at least when outdoors), have a cell phone data plan and self report when they test positive. Whilst this may sound doable, there are still a couple of loopholes (most of them highlighted above), which can be an impediment to its overall performance and progress.
5-Does not fully empower companies
Government led applications are definitely a great step forward but they are limited to just doing one thing, which is contact tracing. Organizations are not fully empowered to analyze their internal systems and do constant internal checks. They can't tell which systems need improvement neither can they forecast the rate of infections to effectively put risk mitigation measures in place.
Solution
It's high time we find solutions which can fit perfectly into our context. Africa Vision Holdings through our global partner Hypelabs, have come up with OKdetect, a contact tracing application which can effectively carry out strong contact tracing albeit only on a pre-selected sample of the population – well sort of.
OKdetect is a solution for corporates, it helps workplaces stay safe and effectively manage COVID-19 related risks without jeopardizing company production.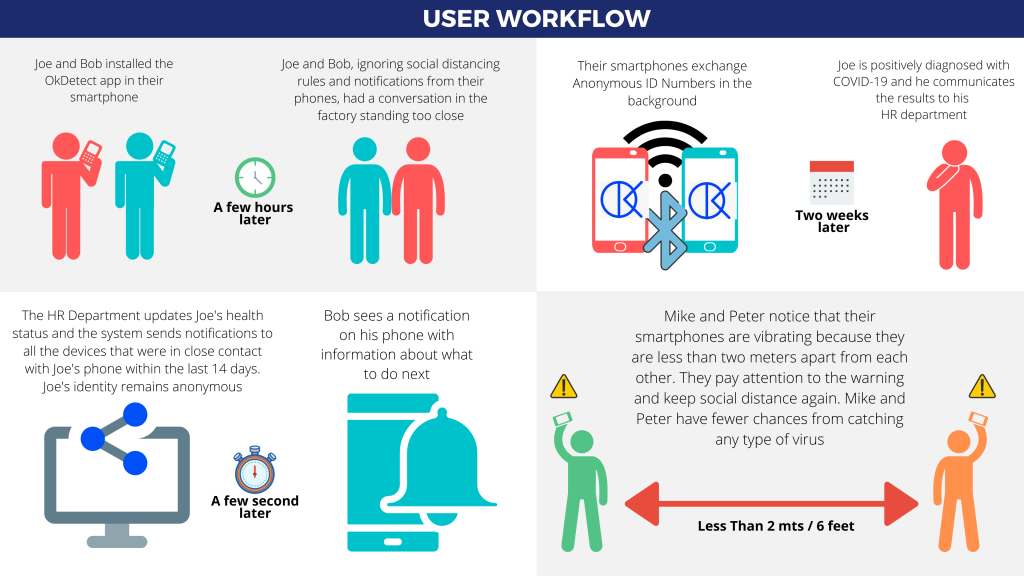 The system helps enforce social distancing rules at work by vibrating and making a beeping sound (on their phones) if two workers who have the app get too close to each other. When a coworker tests positive, the system accurately traces who is at risk of having been exposed to the virus and through the dedicated HR portal, HR can trigger alerts and inform them to quarantine – there's NO NEED to shut down the whole plant/department.
It's built with privacy in mind and only uses Bluetooth Low Energy technology and cryptography. User IDs are cryptographically generated 16-character keys and no personal information is ever collected.
Data is stored and totally owned by your employer and no one else can access it without their consent. Through the worker's check-in feature on the app, workers can daily report any slightest symptoms and management can quickly take action before it's too late. It comes with an HR dashboard where companies can analyze internal statistics, graphs and reports so as to be able to take full charge of the internal situation.
Oh, and it works well offline/without internet and does backups the next time you access the internet. There is also an option to add a piece of hardware for places where smartphones are not allowed or not available. Something you can attach on your keys or something similar. All this while making both software and hardware systems compatible.
The features described above are built on hypeSDK, a patented technology by Hypelabs, a Delaware C-Corp (USA) company with offices in New York, Portugal, Italy and Poland. Hypelabs is a software-only mesh networking provider, in essence it specializes in building technology which connects the world without any internet connection. The technology works on the IoT principles and has seen Hypelabs work and being trusted by leading global brands such as Unilever, Ericson, PwC, Deutsche Telekom and many others.
In comparison to Google and Apple API based solution, hypeSDK has this to say,
" Apple and Google's API is just an API, meaning it's a piece of a solution for contact tracing. To make it simple, it's like an engine inside of a car, but for a car to run you need all the other pieces. With OKDetect we've not only built an engine, but we built a formula-1 car around it as well. It's an end-to-end solution that includes an "engine" (the HypeSDK, that is also powered by native Android and iOS frameworks), "a car" (the OKDetect application), and even a "garage" (the OKDetect web platform to analyse all the data). Also, it is important to note that Apple and Google only provide one API per country, for one application only, and it needs to be a public/government application. It cannot be used inside companies or on any private application. "
Through the OKdetect solution, we aim to help manage coronavirus at company level. Whilst we commend and strongly encourage the use of government applications, however, for corporates, we believe this is a much more effective approach given our unique circumstances on the continent.
A corona free workplace contributes to our corona free community. Our mission is to facilitate smooth opening of economies without making a big compromise on the health of the citizenry.
For inquiries on how to get OKdetect for your organization, contact us or our partner, Hypelabs on OKdetect to request a demo.
About Africa Vision Holdings: We're a uniquely qualified urban development, real estate management, project aggregation & clearing platform that aligns global capital to bankable and outcome-oriented projects in Africa and across the Global South.
References: